Home
Mancelona Regional Chamber of Commerce and all its members welcome you to our community. Mancelona is located in the northwest region of Michigan's lower peninsula, in beautiful Antrim County.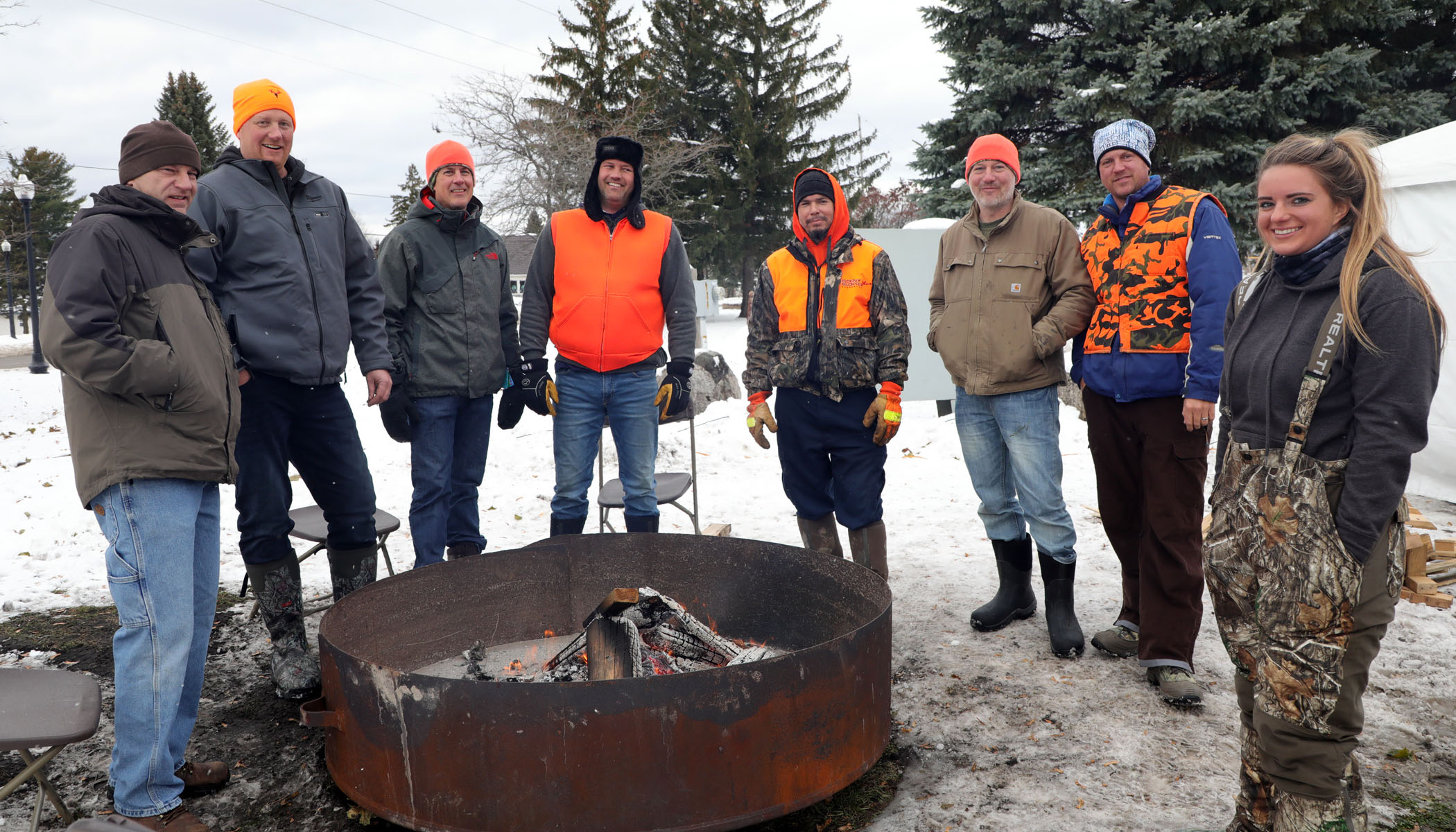 A group of hunters from the Grand Rapids area returned to the Buck Pole and visited with our committee members, including Kayla (pictured, far right). Thanks for hanging out with us, supporting the Rotary Club concessions, and purchasing raffle tickets! Now go get your deer!!
----->
IT'S TIME!
65th annual Mancelona Buck Pole is November 15/16, 2019. Our signature event is 65 years old! Check our Facebook page; follow along with updates and chime in to the discussion. As always, we have a great line-up of valuable prizes for hunters. Big cash prizes for heaviest, most points and widest rack. But, regardless of the size of your deer, all entries qualify for Lucky Hunter drawing (all registration money received with a guaranteed minimum of $200). Just for registering, each hunter will also receive a resuable shopping tote filled with great items - like a 5# bag locally grown potatoes, meat marinade (perfect for venison!), pens, coffee, hunting cap, cell phone chargers, bottle openers, keyrings, koozies, limited edition deer prints and much more. See the Buck Pole page for rules and details, and follow us on Facebook for all the latest!
QUICK JUMP to 2019 Mancelona Buck Pole RESULTS and CURRENT STATS:
2019 LIVE MANCELONA BUCK POLE WEB CAM provided by 186networks
NEED ASSISTANCE WHEN VISITING? For more information call the Chamber of Commerce - 231-587-5500 or This email address is being protected from spambots. You need JavaScript enabled to view it.
Check our community calendar of events for a listing of events taking place in and around Mancelona. Come on up, come visit, explore the area, and have a relaxing time. The local Chambers of Commerce are eager to answer your questions and proud of their communities. Let us know how we can help you! Mancelona: 231-587-5500, and Bellaire: 231-533-6023.
ABOUT OUR SITE
Our Organizations and Links is a directory of the most frequently requested numbers. For a comprehensive membership directory, including non-profit organizations and the church directory, visit the Membership Directory link. We look forward to your visit. Please, contact us if you have any questions about the area. We are always happy to assist!