Moore Plumbing & Heating, Inc.
Contact Person: Joanie or Tim Moore
Physical Street: 9136 Limits SW
City: Mancelona
State: MI
Zip: 49659
Phone: 231-587-8700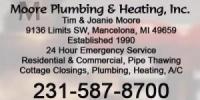 Moore Plumbing and Heating was established in Mancelona, Michigan in March, 1990 by Tim and Joanie Moore. They provide plumbing, heating, air conditioning services for new construction, remodel and repairs. Services include seasonal home openings and closings, drain cleaning, pipe thawing, ice maker hooks ups, washer & dryer & dishwasher hook-ups and more. Services also include fall furnace tune-ups, LP to Natural (and vice versa) conversions, and (limited) construction remodeling. Force air and hot water heat systems.  Clients are welcome to visit their store at 9136 West Limits in Mancelona. Select plumbing fixtures and faucets, and browse through catalogs to see the latest designs. Tim Moore, Master Plumber, is available for emergency services day and night, all week and week-end long. Moore Plumbing and Heating, Inc. welcomes the opportunity to exceed your expectations.  Call 24/7 at 231-587-8700.  
Map to this Business