News & Announcements
Salvation Army Delivers Boxes of Food in Mancelona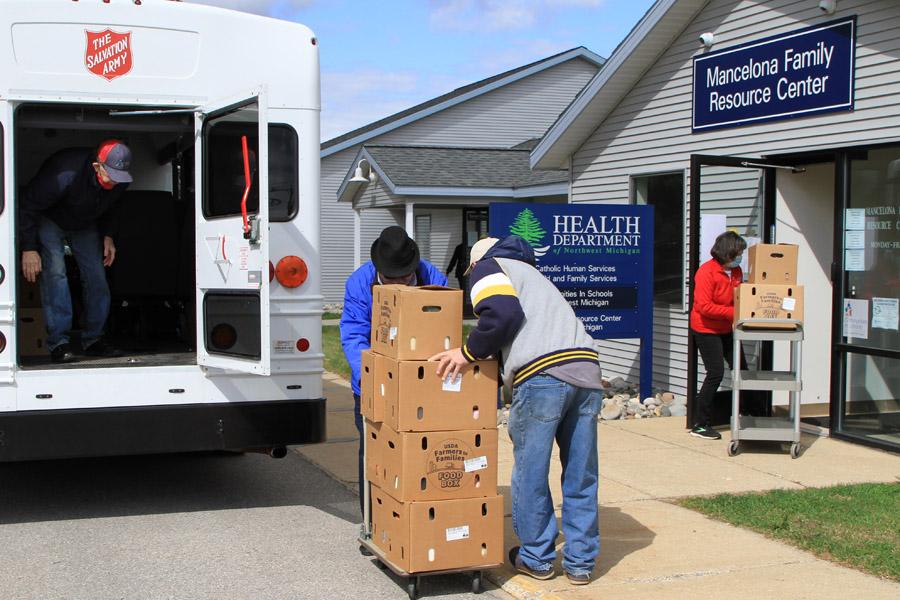 April 13, 2021, Mancelona, MI- The Salvation Army of Petoskey delivered boxes of food to Mancelona residential rentals, St. Anthony of Padua Catholic Church and Communities in Schools of Northwest Michigan to feed individuals and families in helping make ends meet during the pandemic. This is the 4th time volunteers Chaplain Tim Kubek, Fred Stow and Benjamin Evans have delivered boxes of food within the last month.
The large USDA boxes, which were distributed through The MANNA Food Project, contained meat, milk, cheese, potatoes,
fruit and more.
The Salvation Army strives to share God's love with others by providing basic human needs such as emergency financial assistance for electricity, heat, rent, food, clothing, emergency auto repairs and much more.
Chaplain Tim Kubek says "I love serving people and consider it a blessing to have the opportunity to provide groceries to hungry people who may not otherwise be able to feed their families."
The Salvation Army of Petoskey proudly serves residents of Antrim, Charlevoix, and Emmet Counties. Its ministry is motivated by the love of God. Its mission is to preach the gospel of Jesus Christ and to meet human needs in His name without discrimination. To donate, or for more information about its programs or services, please call (231) 347-3531 or visit www.SAPetoskey.org.