Tourist
Places to Visit while in Mancelona & Antrim County
Antrim County is filled with spectacular natural areas, scenery and wildlife. Here are a few of our favorites. GPS locations are provided for many of them. The Chamber of Commerce welcomes your calls and inquiries. We will glady assist you with directions, if needed.
Jordan River National Fish Hatchery
Deadman's Hill Scenic Overlook

Landslide Creek Overlook
Cascade Road

Green Lake

Wetzel Lake

Cedar Bend Farm
Also visit
Palmer Park in Mancelona GPS: GPS: 44.89539 N, -85.06270 W Baseball diamonds, pavilion, playground, basketball court, tennis court, restrooms. Palmer Park is located in the southeast corner of the Village of Mancelona on Palmer Park Road, between US 131 & County Road 571 (Darragh Road). To reserve the pavilion for private functions, please contact the Village of Mancelona, 231-587-8331.

Railroad Park in Mancelona GPS: GPS: 44.90416 N, -85.06611 W Located on the east side of US 131 at the traffic light. Picnic area, playground.
WETZEL LAKE

GPS: 44.93011 N, -84.99578 W
Wetzel Lake is a popular swimming location for locals. To access, take US 131 north of Mancelona to Wetzel Lake Road, then turn east.The road dead ends at Wetzel Lake.
Wetzel Lake is currently a day park offering visitors serene surroundings, picnic spots and swimming. Non-motorized boats only are allowed, with some exceptions.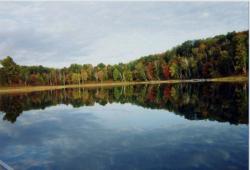 Located on state forest land, the park is operated jointly by the Township of Mancelona and the County of Antrim, who provides assistance from the Antrim Conservation District in partnership with the Michigan Department of Natural Resources. Wetzel Lake is open May through October, morning to dusk.
For additional information about Wetzel Lake, please contact the Township of Mancelona, 231-587-8651.
GREEN LAKE
GPS: N44.53025N, -085.07807W
A beautiful lake in a spectactular, peaceful setting. This is eighty acres of state land surrounded by wildflowers, northern hardwood and coniferous trees. Also, visit nearby Henry Lake. Fishing is permitted.
Access to Green Lake is from US 131 Highway south of Mancelona. Follow Elder Road west of US 131 to Green Lake. The lake is on the south side of Elder Road. Henry Lake is a small lake just east of Green Lake.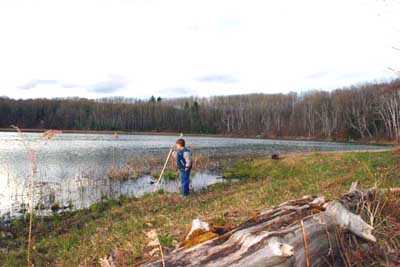 GRASS RIVER NATURAL AREA


The unhurried pace of touring and viewing 1,325 acres of the protected Grass River Natural Area (GRNA) is a must-do entry on life's accomplishment list.

Nestled in the hills of Antrim County in Michigan's northwest corner of the lower peninsula, the GRNA encompasses lakes, a meandering river, rushing streams and crystal clear creeks — a haven for plant and animal life, including both rare and endangered species spanning five distinct ecotones. This natural eco-guardian project and adventure in environmental tourism lies midway on the renowned Chain of Lakes waterway, a connector of Torch and Clam lakes, and Lake Bellaire.

Educational classes for children, adults and school groups, emphasizing the environment and water and land protection are at the core of the popular outdoor curriculum. A network of trails with observation platforms and boardwalks traverse an educational area providing easy access to upland, wetland and aquatic habitats. A portion of this five-and-a-half mile system is wheelchair and stroller accessible.

Grass River Natural Area is publicly owned and managed by a local volunteer board of directors dedicated to water and land protection and environmental education. Visitors are welcome year-round from dawn 'til dusk.

GRNA is free to visitors, who are encouraged in return to become members, volunteers and contributors.

The Natural Area is located at 6500 Alden Highway, between Mancelona and Alden.
Visit their website for additional information, or call 231-533-8314.