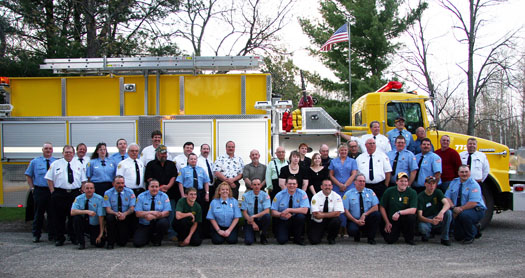 Mancelona Fire District
Local: 231-587-5311
For emergencies call 911

Mancelona Fire District is dedicated to educating the public about fires, how they occur, and what measures can be taken to help reduce the risk of structure fires. Annually, our local firefighters visit Mancelona Elementary School during National Fire Prevention Week to talk to children about fires, what to do if their home catches on fire, and how they can think and act smart to avoid starting a fire.
It's not all work for our firefighters! They are active in the Mancelona community and coordinate special events for the locals. During the summer, a family day is held at Palmer Park in the Village of Mancelona. The Fire District provides lunch for all who attend, and firefighters host a number of games for kids and adults, including truck pulls, relays and a water ball battle contest.
On Halloween night, trick or treaters, ghosts and goblins gather at Station One for loads of spooky fun. Snacks are provided, lots of games, and great music entertainment by a D.J.  A haunted house creative decorated with skeletons, cob webs and cool light and scary sounds awaits the fearless who dare enter. There is no charge, and all are invited to attend for a wonderful evening of fun, games and laughs.

Seasonally, the fire district hosts spaghetti and chili dinners at their fire halls. Watch our Calendar of Events for details on their upcoming events.
Mancelona Fire District and the firefighters are commited to serving the Mancelona Township residents. Just recently, two firefighters volunteered their time to attend a Mancelona School function to assist a young boy, confined to a wheel chair. The boy's class visited a nearby farm. Due to the mud and snow, the boy's wheel chair would not maneuver where the other children could go on foot. The firefighters brought the department's off-road Mule, and gave the boy a ride around the farm to the various buildings. At times, they carried him inside the barns and sheds so he, too, could have a close-up look at the animals.

Their presence, at both on- and off-duty levels, is a valuable asset to Mancelona. The Community of Mancelona is proud of the men and women that serve on the Department.

Station One is located on West Limits Road, and Station Two is located at Lakes of the North. The Fire District covers 95 square miles within Mancelona Township.