Memorial Day Parade Mancelona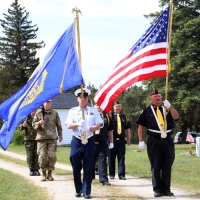 The American Legion George Puckett Post #264 leads the annual Memorial Day Parade. Line-up is in front of Dairy Delight. Parade begins 9:00 a.m. A service is held downtown Mancelona on the grounds of the Township Library. Parade then proceeds to Fairview Cemetery for a service (NW portion of cemetery straight across from Tri-Gas). After the service, proceeds to St. Anthony Catholic Cemetery on West Limits Road at Downey Street. Fall-out, then re-assemble at Star Township Cemetery on Alba Road (next to the Fire Department). Questions? Please contact Mancelona Chamber of Commerce.
Venue Information - Village of Mancelona
Mancelona Village Offices are located downtown Mancelona.
Gallery