When you just want to get away from it all, get a breath of fresh air, and enjoy some quiet time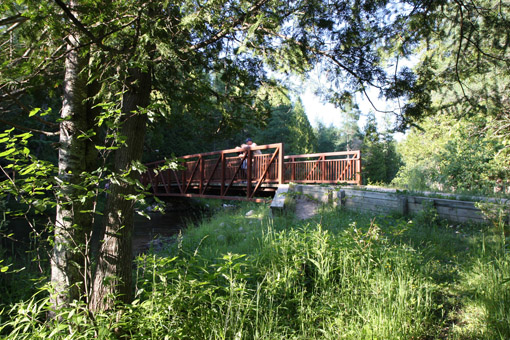 to yourself, the many parks and scenic gems in the Mancelona area provide spectacular views and ideal conditions for that alone time. Some of these secret hideaways are so well hidden, they are unnoticed by many who drive right on by. Whether you are looking for a place to do a little fishing, hiking, have a picnic lunch or take a nap beneath a shady oak tree, Antrim County has the place for you!
YEAR ROUND there are outdoor activities and events for you to experience. In May, morel mushrooms begin to pop out of the ground, trees begin to bud, flowers start blooming. Mancelona is well known for the annual Bass Festival held the week-end following Memorial Day. On November 15 and 16 each year, we hold our Buck Pole hunting contest. In winter, thousands of snowmobilers travel the trails in and around Mancelona, Pinney Bridge, Jordan River Valley, Lakes of the North and Starvation Lake where we have some of the most beautiful, well groomed trails. Each February, hundreds of skiers participate in the annual White Pine Stampede, a point to point race beginning in Mancelona, and ending at Shanty Creek.
We welcome you to our beautiful region. If you need assistance locating a particular business or service company, we are here to help you. Just call us at 231-587-5500.

To obtain a copy of the area Visitors Guide, a full color, glossy publication with loads of information for our visitors, please reach us via the contact page, either phone or e-mail.
To see a list of "must see" places and a description of them, click the "Places to Visit" link (under Community Resources) in the Main Menu. We've even thrown in the GPS coordinates to help you find them easier. Don't forget your camera. The views at many of these locations is nothing short of spectactular, and you may even see a deer or two during your journey.
Camping - see our Membership for links to Mancelona Chamber member campgrounds.
Canoeing - Swiss Hideaway Canoe Rentals (231-536-2341) and Long's Canoe Livery (989-348-7224) and Shel-Haven (989) 348-2158
Fishing- Lake Bellaire, Clam Lake, Intermediate Lake, Torch Lake, Elk Lake, Birch Lake, Bass Lake, Six Mile Lake, Lake Skegemog
Hiking - North Country Trail (NCT) - NCT is a part of the National Park system. Backpackers/hikers describe this as a wonderful opportunity to decompress. In Antrim County and near Mancelona, the trail reaches east of town at Mancelona Road, Sand Lake, Twin Lake, and at our hotspot scenic locations Landslide Creek, Harvey Road, Deadman's Hill, and Pinney Bridge. Follow the link for the interactive map.